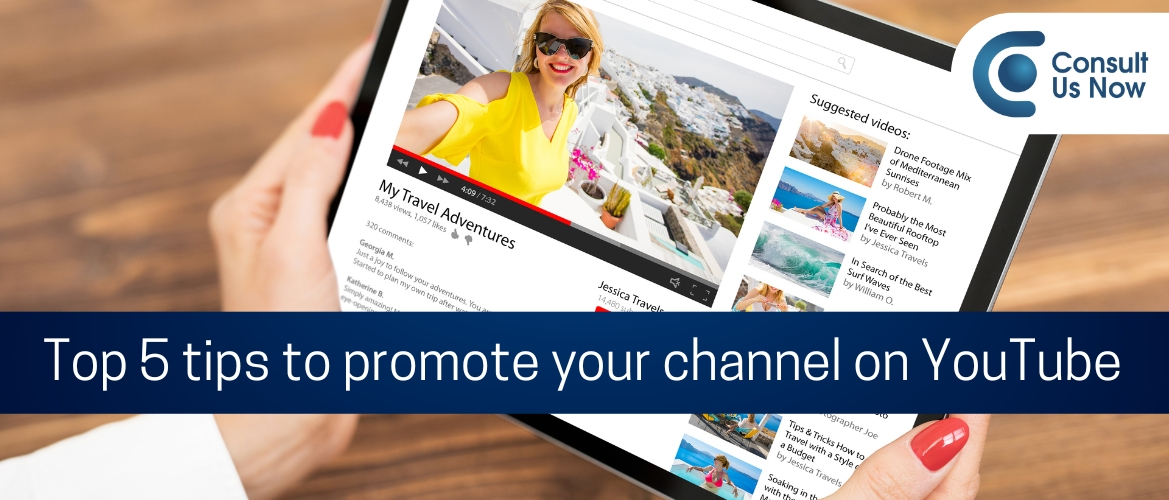 Top 5 tips to promote your channel on YouTube​
Blog / Top 5 tips to promote your channel on YouTube​
Top 5 tips to promote your channel on YouTube
YouTube has drastically grown in the last decade to become a social media promotional site. Although initially a video-sharing entertainment site, YouTube can now also be used for digital marketing. Creating a channel for the product or service you wish to sell, or even one for your business as a whole, will help you market it to a larger base of audience and maximise your return on investment. Product promotion on YouTube is thus steadily gaining popularity, and so it can be a crucial tool for you to grow your business.
Confused as to how to go about with it? Unable to figure out how to promote your channel and increase your subscriber count? Worry not, this article provides you five necessary tips that will help you to promote your YouTube channel and help your business achieve success.
Optimizing your profile is crucial for the success of your YouTube channel and its growth. Optimizing your profile forms one of the foundation stones of your YouTube channel. This would include completing your research and data fields and including proper keywords in proper places. Keywords are necessary to help your content show up on the screens of users, and the target position of your keywords should be in your profile, video titles and descriptions. Also, keep in mind that these keywords should be such that they get a large number of monthly searches but have little competition.
Along with utilizing keywords for increased search value, your profile page should be in tune with the product you wish to market, and your page should be able to answer any pertaining questions new visitors to your page might have about you or your product. Do not expect users to browse through all your videos to know what you seek to offer- tell them exactly what they may find on your channel.
Spice Up Your Video's First Impression
The thumbnail and the title of your video are the first two things that users see. Therefore, you need to be vigilant about these two things when uploading your video onto your channel. Avoid mediocrity by putting in necessary efforts for both these categories.
For the thumbnail, do not just randomly select any specific screenshot from your video. Your video thumbnail is perhaps the most influential element that will make a user click on your video. Thus, spend necessary time and effort on working on your thumbnail ideas, as it is often the first thing users see. Use editing apps such as Photoshop or Canva to create more appealing thumbnails, use bold text and contrasting colours to help your video catch the eyes of users.
The title you choose also plays an important role in the amount of interaction the video gets. Make your title compelling and interesting, and also keep in mind to ensure it provides search value. However, avoid resorting to click-bait under any situation. Your title should give your viewers a reason for them to click on your video. The more the number of users who click on your video, the more YouTube will recommend it. Add keywords into your title if necessary. Experiment with different titles to find the precise balance between being clever, adding keywords and providing value. You can implement these ideas with the help of the YouTube marketing agency in chennai to promote and grow your channel.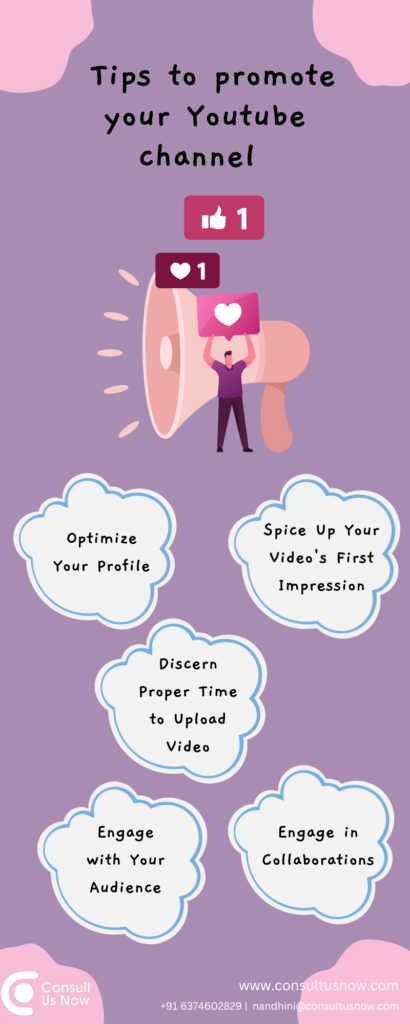 Discern Proper Time to Upload Video
There is no specific time to post videos onto YouTube as it is a global platform. However, a consistent posting schedule does help with increased reach as it does not disturb YouTube's algorithm. You can find out a specific time frame that works best for you and your content using trial and error methods and experimenting. This sort of a specific time frame for uploading videos will not only help you stay consistent on your posting schedule and motivate you to work hard to put out new content, it may also work as an incentive to viewers as it gives them something to look forward to. Find a strategy that works best for you, and do not shy away from making long-term plans for the growth of your channel as well as your business. Create a schedule that enables you to create content comfortably, but consistently, and stick to it. If necessary, create a content calendar that helps you plan out your posting schedule so you are not left sweating deadlines at the last moment.
For a better idea of consistent posting schedules and how to stick to them, visit our site for more tips
Engage With Your Audience
For any kind of social media marketing, engaging with your audience base is extremely necessary. On YouTube, interacting with your audience via the Comments section may help you to grow your channel and increase interactions. Engaging with the audience will not only make you aware of the likes and dislikes of your customers and give you an idea of what sort of services they expect, it will also work towards increasing your rapport with your audience and help to grow their confidence in you. Try to reply to each comment under your video, and if that is not plausible, reply to as many as you can. Your aim should be to turn the comments into a community, where your audience can openly interact with each other and bring up pertaining questions or ideas and discuss them in a civil manner. Audience engagement will thus positively return on your efforts.
Another method to grow your audience base is to collaborate with other YouTubers. Collaborations between Youtubers in the community has always been a go-to method to introduce different channels to different kinds of audiences. Collaborating with other YouTubers on their channels, or getting others to collaborate with you on your channel is a sure-fire way of getting new users interested in your content and getting them to check out your channel and videos. It is a sort of a complementary transaction, where not only do you get the liberty to indulge in a novel kind of content production, but also get a chance to increase your audience base and promote your channel.
In this article, we have highlighted 5 major tips that will help you to promote and grow your YouTube channel and further help you grow your business and achieve success in your venture.
For further details or support in Digital Marketing, Write to nandhini@consultusnow.com or call us at +91 6374602829