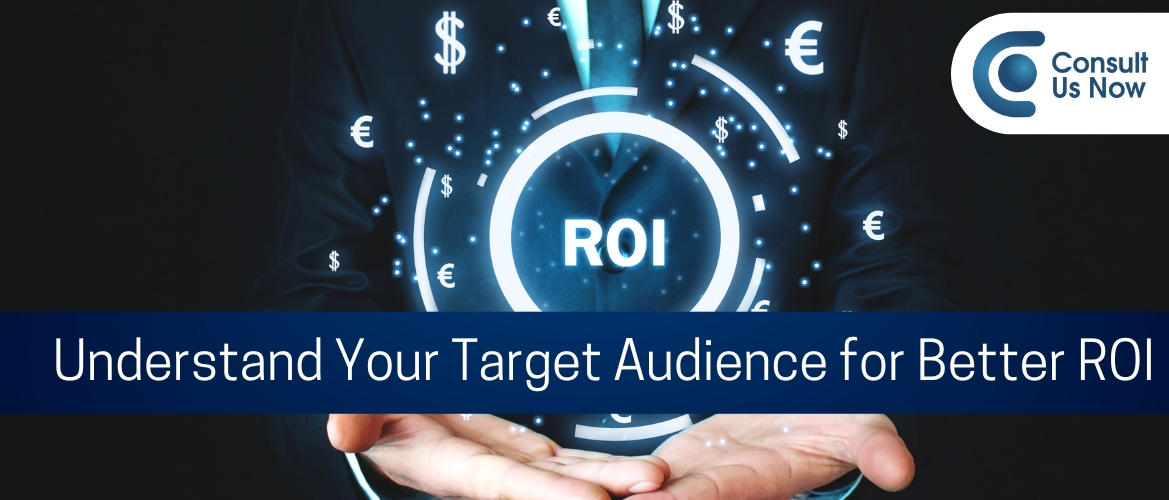 How to Understand Your Target Audience for Better ROI?​​​
Blog / How to Understand Your Target Audience for Better ROI?​
Your target audience refers to a specific group of consumers who are most likely to avail your services or buy the product you wish to sell. These are the people who should be the primary targets of your marketing, as well as your ad campaigns. This category of target audience should be tangent to the nature of the goods or service that you wish to avail. Additionally, the target audience may also be dictated along the lines of age, gender, income, location, interests or a variety of other factors.
Therefore, to properly place your product in the market, it is very necessary for you to properly know your target audience and utilise the facts and figures at your hand to grow your market. Not only will it lead to the success of your enterprise, but knowing your target audience also promises a high return on investment (ROI).
Are you confused as to how to go about learning about your target audience? Worry not, because we have compiled here in this article five ways that will help you understand and properly utilise your target audience.
One of the best and the fastest ways to determine your target audience for your business is to look at who are the people who are already availing your service. Having a mental idea of your already existent audience base will help you parse what your target audience should ideally be like. Ask yourself questions about your audience like- how old are they? What economic class do they usually fall in? What are their interests? What are their likes and dislikes? Knowing the answers to such pertaining questions will give you a clearer image on the kind of users in your audience base, and properly create a map of your target audience. A good way to put this idea into practice is to learn about all such pertaining information factors through social media engagement and interaction with the customers, as well as distributing customer surveys. Another method to properly figure out the target audience base is using Google Analytics tool. Google Analytics offers extensive data about the users who visit your site. This information can be leveraged to determine key insights such as the type of content your audience is connecting with and engaging with the most. This allows you to make more data-driven decisions during the marketing strategy planning process.
Research and study the trends in the market for your industry to determine where there are holes in service that your product might be able to fill. This will give you an idea of what your customers may be looking for and will further help you gain a better understanding of your target audience. Look at the trends in the market for similar products to figure out where they are focussing efforts, and use this knowledge to increase the unique value of your product. You can also learn a lot by analysing and studying your rival businesses. By looking at who your rivals are usually selling to, how they go about it and what sort of a marketing strategy or promotional campaign they follow, you will be able to discern a specific niche for your target audience. Such insights from properly analysing your rivals will not only give you an image of what the market looks like, but it will also help to carve out an idea of the target audience for your business.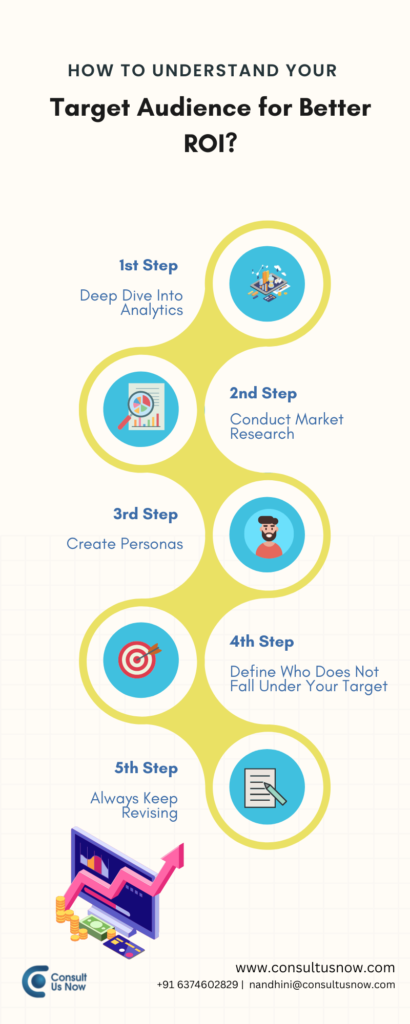 Creation of various personas is a very fruitful and distinct method to narrow down into the specific segments that make up your target audience. This is especially useful if you seek to sell a product that appeals to a wide range of customers.  Personas make you able to determine and regulate the general demographics, personalities and the needs of the consumers you seek to target. Such personas are often created based on data, surveys, digital engagements and any other insight or information you can distinguish from a hoard of data to give a more complete view of the buyers. They will give a look into the buyers themselves, thus making it easier for you to create a framework which works as the foundation to base your idea of target audience upon.
Define who does not fall under your target
In the market arena, you will come across consumers who are close to your target demographic, but who will not respond or interact with your product. This sort of an issue might mess with the analytics of your site, which hinders the growth of your business. Therefore, it is necessary for you to be as specific as possible when it comes to determining who your target audience is and who isn't. You need to narrow down on each criterion and make your categories of audience target scale as particular as possible. Knowing the specifics will thus keep you from devoting valuable capital funds to promotional segments that may not yield sufficient returns. Therefore, this deeper, more specific understanding of your audience base not only gives you a clearer image of your audience base, but also helps in the development of your enterprise.
Perhaps the most crucial part of understanding your audience to help in a high return of investment is to continuously keep revising and rechecking the data and analytics that is involved in the field. With increased collection of data and more interaction with your customers, your understanding of your target audience is bound to get more accurate. Based on this knowledge, it is important for you to plan accordingly. You need to continuously keep a tab on the user data analyses, and with the more information you gain regarding it, the easier it will be for you to optimise your marketing strategy for better return on investment and grow your business.
In this article, we have highlighted five important tips to help you gain a better understanding of your target audience to ensure a better return on investment (ROI) for your business. With these necessary tips, the growth of your customer base and the success of your business is guaranteed.