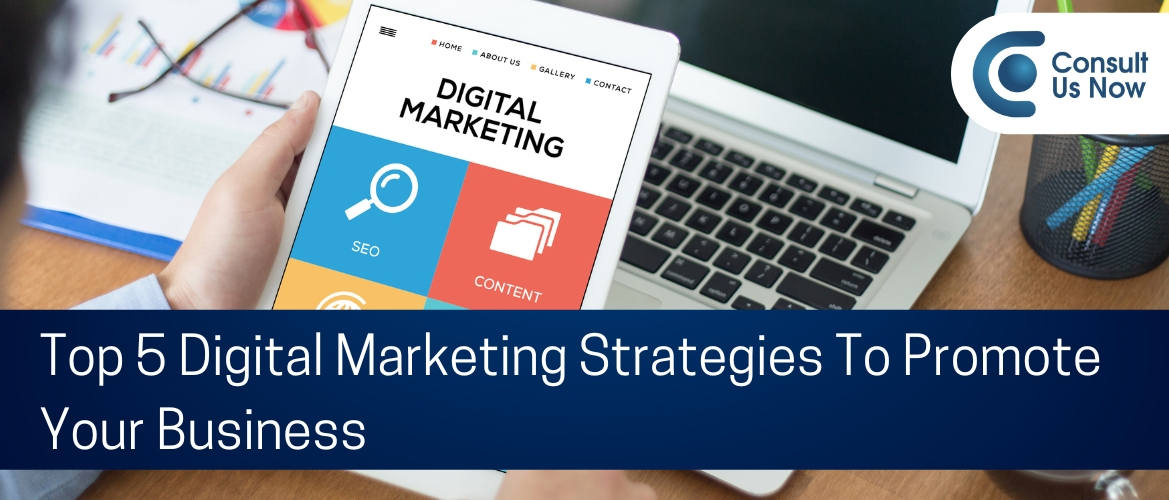 Top 5 Digital Marketing Strategies To Promote Your Business ​
Blog / Top 5 Digital Marketing Strategies To Promote Your Business ​
There is no doubt that the Internet has entered nearly every perspective of our lives!! If people want to know about anything or buy anything, they first go to search on Google. What does this demonstrate for you and your business? To put it clearly, if you are just trying to appear in search results but doing nothing is not going to work out. 
So use digital marketing to promote your business with some strategies. It will help you to appear first in the search results and helps you to grow your business. Digital marketing continues to be one of the most beneficial ways to reach online customers and followers by being top on the search results. Following a thoughtful digital marketing strategy is key to boosting businesses to grow.  It is more vital than ever to develop an online presence to engage with today's consumers.
Below we gave you the top 5 essential digital marketing strategies to promote your business. Let's see the top 5 essential strategies and include them in the marketing plan!!
Set Up A Strong Social Media Presence
Today, Social media growth becomes more powerful. Businesses can't ignore it because it is a key marketing tool. Many businesses have used social media platforms to grow their customer base successfully. Engaging with customers online may seem ineffective. But, you must build an engaged following today. Also, now with a click of a button, you reach millions of customers.
Social Media also gives you access to precious customer feedback and opens a direct line of communication with your target audience. Facebook, Instagram, Twitter, and more social media platforms offer the opportunity to message directly with customers and other businesses. Leveraging influencers is one of the ways to boost visibility and get more value from social media. Building a dedicated audience will take more time and effort. 
If you are just starting, leveraging the influencer will be a quick way to increase your number of followers.  Also, Effectively Leveraging influencers is a targeted way to reach your ideal customers and it will be your strong setup of social media presence.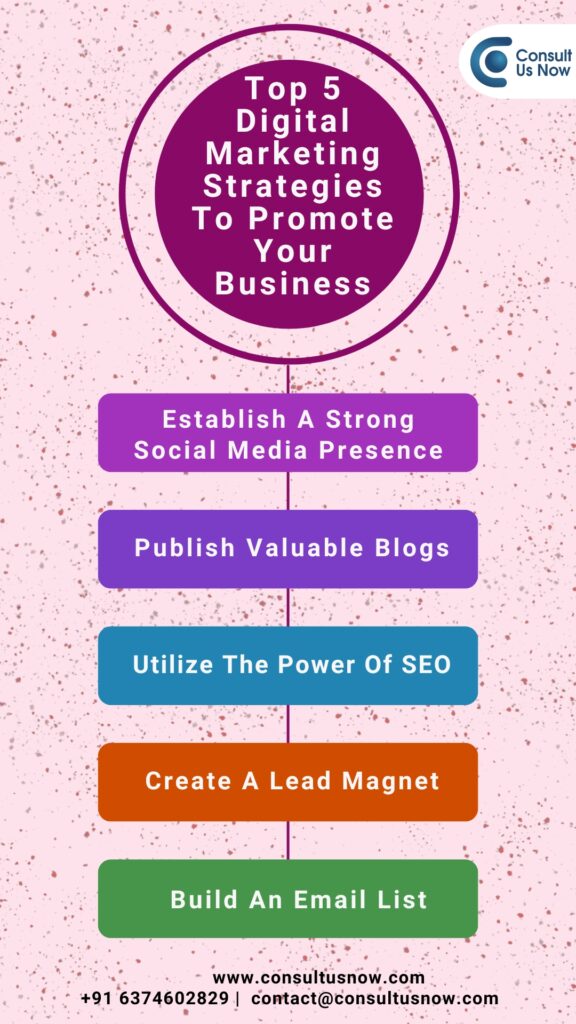 A blog is an excellent way to engage and promote your online following. Your blog is the best spot to share content related to your products, business, and industry. Having an excellent blog will not only attract potential customers but will also build your brand and reputation. Give beneficial content to readers, and they will return again and again.
A blog with high-quality content should be the most successful one. If you build your blog, think of ways to add value to your audience. Don't be afraid of sharing insider tips. You will be an authoritative voice by sharing insider tips among readers. Remember having a blog consists of much more than simply posting content. Be sure to nail down a marketing strategy across your social media networks for each blog post. It will enable you to rank higher in the search results.
Do you know the power of SEO? It is crucial because you can take all the time and resources in the world to maintain a functional and polished website, but without a strong SEO strategy, potential customers may never see it. Optimizing your content will confirm your website becomes one of the first search results on Google.
Some people may think SEO is time-consuming, too technical, or not worth the effort. But SEO is one of the most productive long-term strategies to generate highly-targeted traffic. SEO is most powerful when you know how to utilize it. Some businesses take shortcuts such as utilizing shady link schemes. They may work for a short term, but the results don't last and can get businesses into trouble. 
While it is critical to understand how Google algorithms work, pay more attention to creating unique, and engaging content for readers that includes a few of the basic SEO principles. Start by researching the most highly-searched keywords in your industry and write several in-depth blog posts that add value to these topics for readers.
A lead magnet is a free download, ebook, or pdf that allows you to capture your reader's email address and contact information. These incentives are free and should provide value to your potential customers right away. If your content seems more valuable to them they give you their information.
When you offer a lead magnet targeted to your potential customer, success is guaranteed. The best tactic to build great lead magnets is to identify your target customer's pain points and provide an effective and appropriate solution. While channeling the target customers into your marketing funnel use your offer as a way to obtain more information about them. Your marketing funnel consists of all the steps target customers take, 
From discovering your brand for the first time and 

To make the conversion into an engaging customer. 
Do you know? Lead magnet basics are the exchange of information. Before potential customers download a white paper, ebook, video, checklist, or cheat sheet, make sure to get their contact information. This lead magnet is the essential element of a strong digital marketing strategy.
Building an email list gives you direct access to your core audience. Even if you have more followers on social media platforms, there is no guarantee they will see your posts. Terrible still, these platforms are changing their algorithms all the time. Building an email list allows you complete possession of it. One of the most important elements of a beneficial sales funnel is email marketing.
Utilize your email list to deepen your relationship with customers. Provide content from the heart that will connect to the customers authentically. 
Effective digital marketing is key to the growth of your business. Implementing the above strategies will help you achieve your goals. Then, Why are you waiting? Try it out.
I hope this article will helpful for you in promoting your business