When your laser focuses on growing your business, it's easy to be tempted to start the actions. Remember, "An Idiot with a Plan Can Beat a Genius Without a Plan"
So, in order to get the most out of your digital marketing budget and efforts you must have well-planned digital marketing strategies. You should be clear about how to use one or more online marketing channels To reach your target audience. 
Moreover, it has a list of steps and specific digital marketing goals. In this article, you are about to learn the right way to develop your digital marketing strategy.
Let us grab the steps to develop a digital marketing strategy!!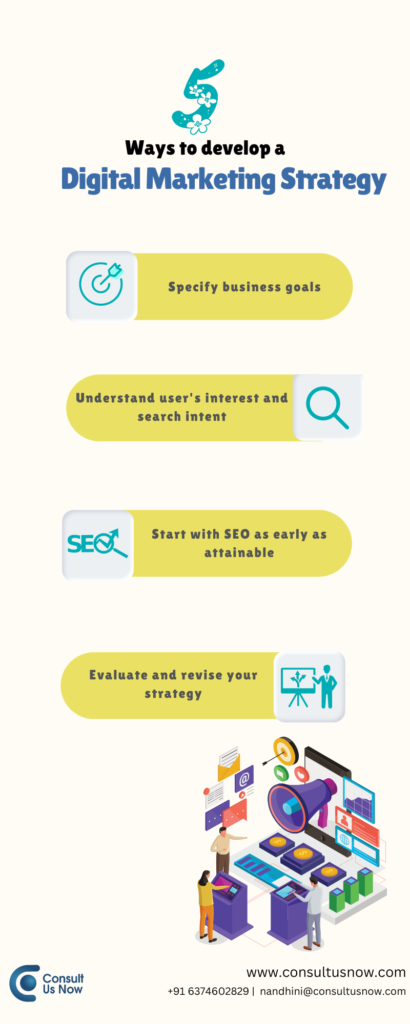 The first step in developing a digital marketing strategy is to be clear about your business goals. In other words, know what you need to achieve with digital marketing. You can set any goals but they should be measurable and well-defined.
Simultaneously, everything in a digital marketing campaign is measurable from beginning to end. So, you need to obtain an advantage of this. Also, developing a digital marketing strategy has specific milestones and targets.
Some typical goals are:
Raise brand awareness

Increase organic traffic

Make additional sales

Get additional email subscribers

Reduce the cost of PPC campaigns

Get additional Facebook followers

Get additional YouTube subscribers

 
Also, a good way to come back up with measurable goals is to use the top-down approach. Start specifying your goals in business terms. Then translate that to digital marketing goals.
Understand user's interest and search intent
Once you establish your business goals, you should understand your target audience. Research their interest and needs and keep a track of them. It will be useful in creating relevant content for them.

Use different platforms to check out their interests like research about what they engage in Facebook, do keyword research in search engines to know what they are searching for, etc
Once a user searches in Google, it is a selected intent. Also, if your content/products, or services do not satisfy it, your digital marketing strategy may fail.
That is why it is necessary to perform keyword analysis at the beginning. This helps in capturing all topics, keywords, and phrases throughout the client journey, from awareness to conversion.
Additionally, you should analyze the profile of your custom audiences. That helps you to seek out matching audiences.
Also, it helps to increase the probability of targeting the proper variety of audiences. So, always start your analysis with some accessible knowledge.
Thus, if you include these strategies to develop your digital marketing strategy. Then, the results are going to be better. So, you can earn plenty of audience by this.
If you want our SEO agency to conduct your SEO Campaign , Call us @ +91 6374602829.
Start with SEO as early as possible
You should take strategic decisions to develop your digital marketing strategy. So, start with SEO as early as possible.
SEO is one of the foremost productive digital marketing strategies. But, it takes some time to figure it out.
Once you begin an SEO campaign, it may take four to six months to come up with any result. So, the marketers feel that it can be a protracted time.
Then they choose other different digital platforms like Facebook ads, and Google ads which may give immediate results. That is an honest approach however the common mistake is that they ignore SEO.
Marketers try to revisit SEO after knowing that they can not build a no-hit digital marketing campaign.
Additionally, take a stronger SEO strategy at the beginning of your marketing. Thus, you can begin functioning on your paid campaigns and different channels. In business terms, this means an increase in revenue and profit.
So, this is exactly the goal of a successful digital marketing strategy.
Read more about SEO: The Beginner's Guide to Small Business SEO ( 10 Easy Steps)
SEO may be a large topic. Search engines consider many parameters. Thus, before they decide that web pages indicate the results for a specific question.
To make it easier to handle, there are 3 main sub-processes: 
Technical SEO, 

On-Page SEO, and 

Off-Page SEO.
 
Each method is responsible to optimize your website for a variety of parameters. Thus, they eventually result in higher rankings and traffic. So, SEO is very important.
As a result of the bulk of search traffic on websites that seem within the 1st five positions of the search results. So, if you need to urge traffic from search engines. 
Then you should look within the high positions for search terms associated with your business. The best way to start with SEO is to follow a stepwise approach:
First, review your technical SEO. 
Ensure that search engines will access and index your content with no issues. 
Remember that it is necessary to avoid problems that 
This can be necessary since any problems at this stage are going to be ruinous for your efforts.
Second, Optimize your content for search engines. 
If you are producing content that satisfies the requirements of the user.
Then, you need to check the content for SEO optimization before publishing it.
So, it helps to perceive your content higher
Third, Promote your website and content. 
SEO ranking helps you to promote your websites on search engines.
So, other different websites trust your website and they categorize this through a backlink.
Thus, it can be a strong signal to Google.
That your website deserves the highest position in the search engines.
Still, if you did not use SEO optimization, then include this effective strategy to develop your digital marketing strategy.
Evaluate and revise your strategy
Digital marketing is an extremely dynamic industry. For developing your digital marketing strategy you should evaluate and revise it.
Evaluating your digital marketing strategy is to stay current and relevant. So, the best way to evaluate your campaign is to try and do it with supported KPIs and different metrics. 
The necessary metrics for a digital marketing campaign are:
Number of website visits

Cost per visit

Cost per conversion

Click-Through Rate

Number of Conversions

Number of micro-conversions

Time on website

Bounce rate

Number of social shares and

Several comments.
Creating choices will be easy if you analyze and add these metrics for each campaign as part of your strategy.
Also, you should analyze your brand to boost your strategy. It is a productive plan to shine around the competitor's way and develop your marketing.
I hope this article will help you to develop your digital marketing strategy