When someone says, "Let's purchase dinner online," what names come to your mind?
Is it even possible that you didn't think about Zomato? Today, the term "online meal delivery" is associated with Zomato. All of the foodies out there now consider it to be an integral part of their lives.
Nowadays, every digital marketer admires Zomato for coming up with novel approaches to draw in their target audience. Taking a look at their digital marketing techniques might inspire aspiring marketers and provide them with ideas for effective advertising campaigns.
This blog will discuss Zomato's marketing approach for being the most popular and widely used food delivery, dining, and restaurant discovery service.

Zomato was founded in 2008 by Deepindar Goyal and Pankaj Chaddah. In 2010, the company changed its name from Foodie Bay to Zomato, which is now widely recognized. When the business first started, its goal was to serve as a platform that gave users information about restaurants, including information about their menus, prices, ratings, and other details.
Over the years, it has changed into an online platform for food delivery. People can now order food from nearby restaurants using their app or website. The customer's order is picked up from the restaurant by Zomato delivery staff, who then deliver it to the given address. Let's look at Zomato's marketing strategy while we're discussing it.
The target audience for Zomato consists of smartphone owners between the ages of 18 and 35 who have experience using apps. It seeks to draw both clients who prefer to eat out as well as those who prefer to have food delivered to their homes. These groups commonly mix and match. For those who require food delivery, the Zomato Gold plan gives benefits for dining out.
This group includes people who work and need food in their workplaces, students who live in hostels and need food, people who can't cook or don't have the space to cook, and people who occasionally like eating out.
Digital Marketing Strategy of Zomato
Agility and innovation are the cornerstones of Zomato's digital marketing approach. They have remained current by altering the dynamics of food delivery. Additionally, they have benefited greatly by being able to click throughout all regions. The business has consistently evaluated its performance in all areas and modified what wasn't working. 
Zomato uses a variety of advertising strategies. It receives traffic from numerous sources and channels.
These are the numerous traffic sources that Zomato receives.
31.36% of traffic is direct
1.02 percent of traffic is referred
traffic from searches is 66.41%
traffic from social media: 0.73 percent
traffic from the display and postal ads is 0.47%.

The majority of Zomato's target audience is people between the ages of 18 and 35. Therefore, it becomes crucial for the food technology company to maintain the quality of its "social media marketing efforts". The platform goes above and beyond to maintain a connection with its audience on social media by creating unique and engaging posts.
Instagram Marketing Strategy of Zomato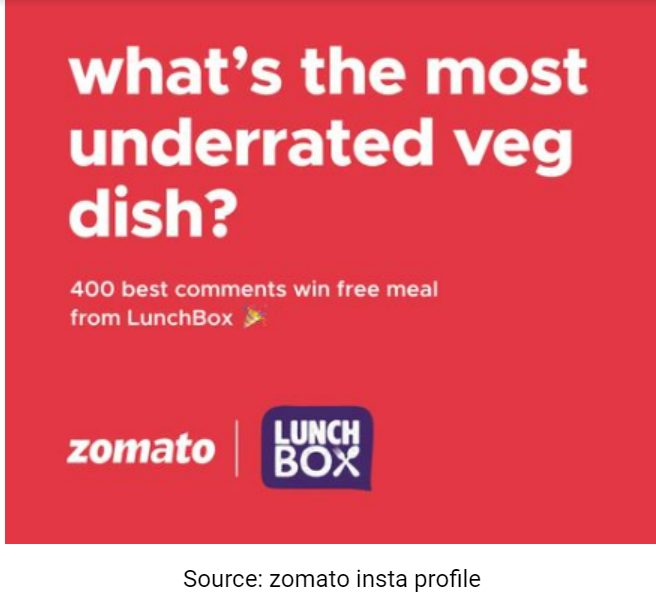 The Instagram marketing strategy used by Zomato is regarded as a scale of measurement to see how well you're doing or where you can improve. Zomato's Instagram marketing strategy is successful for a variety of reasons. 

Moving on to posts, Zomato priorities and targets engagement. Their engagement posts typically encourage their audience to leave comments in exchange for free meals or vouchers. As a result, the audience are invited to leave comments on their posts for a chance to win a free lavish meal.

Meme marketing is another trend that is frequently seen in Zomato's profile. Zomato does not miss the opportunity to incorporate relatability into their content and make use of popular memes.  You will surely smile after reading posts like "Life without briyani is boreyani, life without pizza is puzzle, and life without pani puri is pain puri."Meme marketing and moment marketing are two extremely useful tactics that can help you advance your business as a digital marketer.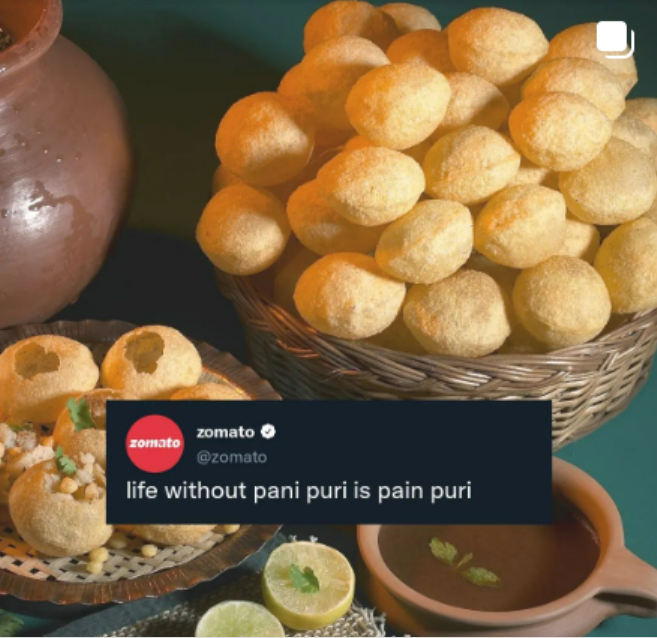 Facebook Marketing Strategy of Zomato
The Facebook marketing strategies used by Zomato and Instagram are similar, yet they also differ in significant ways. Zomato has it all, from hilarious and attractive posts to ones that will warm your heart. Zomato's Facebook posts are tinged with humor and relatability, which aids in developing relationships with their followers.
On Zomato's Facebook page, the comment area is one feature that is difficult to ignore. The majority of comments are loaded with criticisms of Zomato's service, and Zomato makes it a point to respond to these.
On each post, there are many comments from customers that are dissatisfied with their service. On the other side, the majority of the Instagram comments on Zomato are from supporters who like their material. Therefore, it is crucial to understand the differences in audiences across each of these platforms. So that, we can craft the communications accordingly.
YouTube Marketing Strategy of Zomato ​
Zomato has always been a pioneer in recognizing the value of videos and using them to its advantage on the YouTube platform. On YouTube, Zomato frequently has short, snappy, and unskipable video commercials with a subdued "call-to-action". It will therefore be appropriate to assert that video ads play a significant role in Zomato's digital marketing strategy.
Marketing Strategy During Covid-19
Due to its extensive distribution and logistics network, Zomato is the ideal platform to use for emergency deliveries. And when COVID-19 struck India, this exactly took place. In addition to helping the thousands of people who are a part of their delivery network by setting up a fund to cover any income they would have lost due to the crisis, Zomato is actively collaborating with the government to ensure that its services can continue to run smoothly throughout the crisis. They also made sure their delivery staff members had masks.
The key to staying at the top of one's game is knowing how to connect with the audience through the proper channels. Zomato is an instantly recognizable brand because it makes a strong impression on consumers. They are performing admirably right now. They will experience a lot of benefits from this if they continue to put in the effort. Contact Consult Us Now to work on the marketing strategies of your small businesses. 
Happy Reading!!