Tips to produce high quality content
Content is perhaps one of the most effective ways to promote a brand or a business. The quality of your content is what will primarily attract customers to your business. This quality content is what will help your website to position itself in search results, attract links naturally and develop link building, generate trust and credibility among your audience and project you as a worthy reference within your sector. Therefore, creating quality content is of utmost importance for the growth of your enterprise.
Unsure as to what falls under the category of "quality content"? Stumped at how to go about it?
Worry not, this article provide the four basic requirements you should keep in mind while content generation, which will help add a spark to your content and improve its quality.
Create Content for Your Audience
The most crucial factor to keep in mind while producing content is that it has to appeal to your audience base. Always remember, create content for your customers, not yourself. You need to attune your content to your customer base, and also make sure your content is something that your customers are looking for. It is very important for you to take into consideration what your users actually want from your services. You need to be on par with the likes and dislikes of your customers to be properly able to provide them with content they will enjoy or even show interest in. What interests do your customers have? What kind of news or events do they follow that you can relate your business with? What sort of content are they naturally attracted to? What sort of services do they reward, and what sort of services are they indifferent about? And finally, what led them to your site? Ask yourself such questions, and use user feedback techniques and methodologies to find out the answers to these questions from your user base.
Therefore, the first step in creating quality content is to ensure that it contains the information or services your customers are looking for. For this, you need to be in direct interaction with your audience, and conduct proper keyword research of your user base. This will help you determine what trajectory your content should take and how you can generate maximum user satisfaction from your content and your business.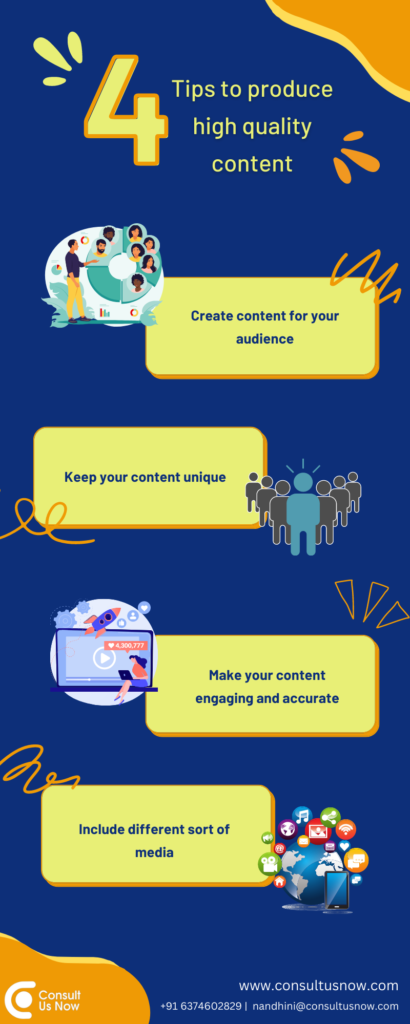 The growth of your business also depends on how unique your content is. As content production is often a competitive market, it is very necessary to make sure your content has the extra spark that is required to make it stand out among a plethora of other generic content. Producing generic content may come easy and not require much effort. But if you want your business to succeed it is very important for you to make sure your content is unique and one of a kind. Customers are disposed to reward unique content more than they reward any other sort of content. Even on internet platforms, the uniqueness of your content is what will catch the eyes of new customers and attract more and more users towards your business.
Creating content consistently on a regular basis may often bring a sort of stagnancy or staleness to your content. This is something that you should try and avoid at all costs. Keep your content fresh. Although this might seem like a hurdle during the initial days of your business, content generation will get easier and smoother with time. Some necessary factors required to create proper and unique content would be to- make sure your content is not copied off somewhere else, use multiple sources while researching, make sure to keep your content up-to-date with the events of the world, maintain your own unique writing style and structure, keep an open mind while researching and form your own ideas and base your content on it. Also, look into the kind of content your rivals are producing so that you do not end up unintentionally plagiarising. You can also seek help from the best digital marketing agency to raise the level of your content.
Make Your Content Engaging and Accurate
The ability of your content to engage the audience also plays a huge role in the growth of your business. A piece of content that is engaging, appealing and not longer than necessary will generate more positive feedback from the audience than any other piece of content. Therefore, you need to be vigilant to make sure your content is engaging to interact with, and also ensure that the extension of your content piece remains adequate. Keep your content readable and accessible, perhaps by dividing a huge chunk of content into smaller bits. Also, make sure that the information you pass onto your audience is accurate. Spreading misinformation, even unintentionally, will definitely lead to losing customers and be a huge hit to your business. To avoid any such unpredictable and unwanted outcome, fact-check your information time and time again before including it in your content. Be bold in your statements, but do not fabricate facts just to give yourself the upper hand in any situation as it is bound to lead to trouble.
For more ideas to spice up your content, check our site!
Include Different Sort of Media
Do not limit your content to a single form of media. Users generally show a more positive reaction to content that amalgamates two or more forms of media. This kind of multimedia presentation of your content will not only satisfy your existing audience base, it may also attract new customers to your business, leading to its growth.
Include different media formats and tools in your content to make it appeal more to the audience. Using audio and visual modes of content sharing is a very practical, as well as rewarding, idea. Using infographics may also help to raise the bar of your content to a higher level. Media formats like images, videos, audio files, etc. are very useful tools that not only adds on to the existing content, but also makes it more enriching and attractive. Although it is not necessary for you to resort to images or other resources, it is a proven fact that audio-visual content has a greater impact on consumers. It helps attract natural links, encourage going viral on social networks and increase the time spent on the page.
In this article, we have highlighted a number of tips for you to follow to help you generate high-quality content. Although ensuring high-quality content might not take you straight to the top at once, it will definitely have a positive effect on your overall performance and growth and help you in the long run. Therefore, if you want your business to grow and succeed, you should be adept with creating high-quality content.
For further details or support in Digital Marketing, Write to nandhini@consultusnow.com or call us at +91 6374602829