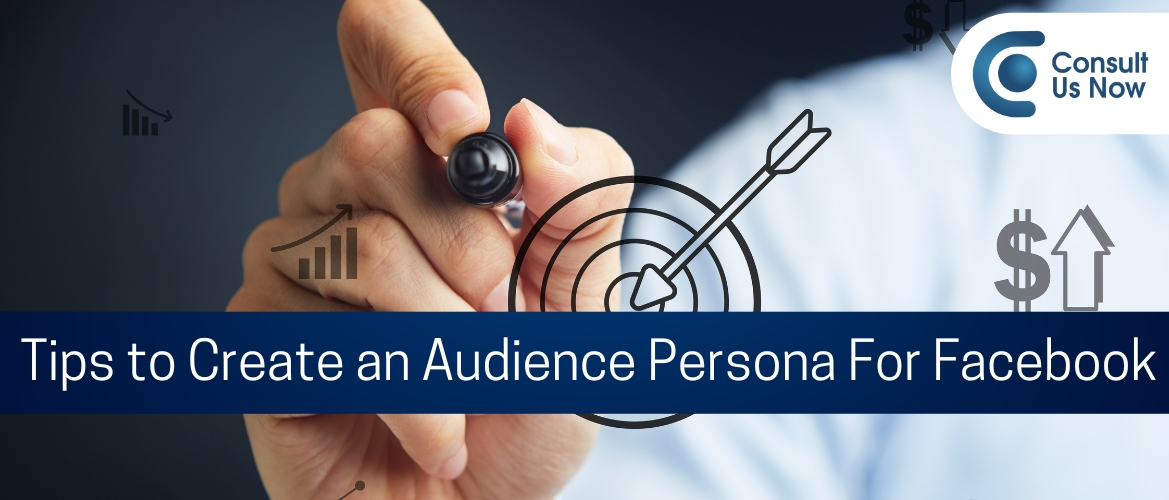 Tips To Create An Audience Persona On Facebook​​
Blog / Tips to Create an Audience Persona on Facebook​
Facebook is more than just a forum for client communication. The Facebook Audience Research feature allows you to build effective consumer personas. The good news? It's simple to carry out. 
Buyer personas help you identify your target market and increase sales. A Facebook buyer persona identifies individuals who are most likely to respond to your advertisement. Or, even better, will pay you for your service.
In this article, we have gone over some of the basic ideas you should have when creating a buyer persona on Facebook. We have also highlighted a few tips for you to help you develop your buyer personas and be able to utilize this element as a part of
Facebook advertising agency
.
What exactly is an audience persona?
The visual and description of a "person" that represents your target market is known as an audience persona or buyers persona.
What makes it unique from the targeted audience you already include in your marketing strategy? More people fall into your target audience than into your audience persona. You designate a (usually) sizable group of people who have a particular set of demographics and behaviors when you define a target audience or target market.
Focus on a particular individual who best represents your target audience when creating your audience persona. Consider this person's characteristics, including their interests, ambitions, difficulties, and actions. A single audience identity is best. We're imagining one specific individual, their thoughts, and their experiences.
What is the purpose of a buyer persona?
It is critical to understand your target group. Knowing whoever you're addressing allows you to develop more relatable marketing methods which will let your audience feel valued and heard — and may even persuade them to choose you over a competition.
A company should preferably have several customer personas. For example, if your product's end-user needs clearance from others (e.g., their boss) before buying a product, then each individual participating in the decision-making process is a different buyer persona.
As a result, firms should devise distinct strategies to earn over each persona, because each persona is likely to have unique criteria for assessing a service or product.
Buyer personas are critical in marketing and throughout the inbound process. This covers both organic and paid social media promotion. You will lose respect and trust from your customers if you are unable to relate to and connect with them.
How to build a buyer persona?
To construct your ideal buyer persona, follow these steps and gather information along the way.
Determine your target audience
Examine your current consumer base. Who appears to require your help the most? Who does your team spend the most time with? Is it the marketing team of the company? Chief executive officer? Keep an eye out for trends, not just in who you offer to, but also in who gets the greatest value from your service. Once you've identified your ideal customer, it's time to conduct some research.
Conduct in-depth audience research
Your firm's buyer persona should be founded on actual research, not  on assumption. Below is a basic demographic analysis that will assist you in understanding your target group or buyer persona (s).
Demographic data can be gathered over the phone, in person, online, or with the use of social media analytics services.
consider the following details:
Age 

Location 

Purchasing power

Interest

Challenges

phase of life
Identify the objectives and difficulties of your audience
You are now aware of the target demographic. Therefore, we must dig further to identify the problems and objectives of them. Knowing what your potential customers could be looking for will help you better understand them. As a result,  Your hunt for the perfect audience persona will become even more focused.
Try to understand the following
What are the goals of your audience, and how can you support them? 

What obstacles stand in the way of reaching their objectives? 

What drives them and what inspires them?
Observe the audience's online behaviors
If you are developing a persona, you should also know how to contact them after you begin producing content. It's critical to understand the online behaviors and interests of your audience. You must ascertain which social media platforms they frequent. Utilizing a competition analysis tool for Facebook to learn how your audience is reacting to the material of your competitors would be beneficial if your audience is more engaged in Facebook.
For optimum reach, you should advertise your content on the platforms where your primary audience is most likely to be found. Additionally, it helps facilitate natural content discovery for your target audience.
To determine the type of information your target audience likes, you need also to find out which one of your opponents they interact with the most on facebook and what posts or pages they frequent.
Creating a custom audience
Despite the fact that it's simpler to use Facebook Audience Insights to locate and develop an audience, you shouldn't make assumptions when defining the specifics of your consumer persona.
Making a custom audience out of your email list is the greatest strategy. For identifying the characteristics of your ideal consumer, your email list is more useful because it includes people who have previously expressed interest in your goods.
In order to establish a more precise bespoke audience, Facebook advises using an email list or list segment with at least 1,000 users. One of my favorite audience sources is the customer list file. Other favorites are website traffic, Instagram, Facebook, and lead forms.
For your benefit, we have summarized the entire process into a compact step-by-step instruction list. The procedure is as follows: first, go to your Ads Manager, then the Audiences page. Custom Audience can be chosen from the Create Audience option. Then, to submit your CSV file, choose Customer File from the menu. Complete the process by following the instructions.
Prior to Audience Insights data being accessible to your bespoke audience, a 72-hour waiting period may apply.
Establish a lookalike audience
A Lookalike audience, as was briefly mentioned earlier, is one that is comparable to your bespoke audience yet includes various segments of the population. By doing this, you can make several Lookalikes and possibly modify them according to various criteria.
To locate your source for Lookalikes, use the dropdown. Additionally, there are possibilities for other sources and pages.
The amount of your audience is ultimately up to you. Depending on your course of action, you can examine the various parameters. The range of the audience increases as you drag the slider further to the right. If you like, consider a variety of possibilities, but make sure the measurements are correct. After finishing, select Create Audience from the menu.
Facebook suggests more beneficial approaches to audience data collection. To obtain detailed audiences with lifetime customer values, for example, you can leverage your Facebook Pixel or even product information. If you have the correct data sources, they are what Facebook refers to as "Value-based Sources" and they function fairly effectively.
The process of building a profile to compile all the facts in one location can be started as soon as you've determined the essential client information.
You may need to develop a specific buyer persona to characterise the relevant information about your consumer for usability, depending on the sector of business you are in.
A buyer persona sample can be used to obtain an idea of how to make one, or you can create your customer persona from scratch. Even now, you may easily develop a buyer persona profile online using a variety of tools.
Since the data originates from Facebook, it would be the first place you would advertise. However, you can also use this data to gain a more comprehensive picture of your clients as a whole.
Every time you decide what to post on social media or how to proceed with your overall marketing strategy, consider your buyer personas. By treating these personas well, you'll forge a connection with the actual customers they represent, which will increase sales and brand loyalty.
Visit our website to find out more about audience personalities and how they work. Additionally, our website will give you access to database reserves that are directly related to
Facebook advertising agency
and creating audience personas for Facebook.