An online presence is  extremely essential for the success of your business. In the present digitalized world, it is very necessary for you to have an online persona for your business; which will help in the marketing and ad campaigns for the growth of your enterprise. Thus, knowing different methods and ideas to grow your business quickly on the online platform is very crucial for any entrepreneur such as yourself. Nowadays, there exists a number of free marketing tools, which are social media savvy and have a high-quality design, which may help you to grow your business online without hurting your investment rates too much.
Confused as to how to go about with this? Stumped at figuring out the easiest way to grow your business quickly online? Worry not, for we have compiled here in this article a few tips that will help you to grow your business online and achieve success.
Social media has drastically grown in size in the past few years. Therefore, the huge user base of social media sites provides an easy way for budding entrepreneurs to grow their businesses by promoting and campaigning on different sites. Sites such as Instagram, Twitter, Facebook, etc., are thus very viable options to carry out business marketing strategies and advertise one's products or services on it. You can do so by creating a social media account for your business on one of the numerous social media platforms and then using the website to promote and popularise the product you seek to sell. Social media provides a large audience base which will help you to increase your customer base by attracting new customers using promotional tactics. This can be done through the usage of audio or visual modes of promotion or using aesthetic and appealing posts and ideas. Social media is, thus, one of the fastest and cheapest ways that will help you grow your business online, as it does not require the input of any additional capital.
Make your sites mobile-friendly
In the present day, people spend large amounts of time in a day on their mobile phones. Mobiles have almost become a part of human bodies, with each person having at least one mobile phone on them at any given time. Therefore, the chance of a future customer stumbling upon your site while they are on their mobile is extremely high- be it through social media surfing, or through their friend sharing the link to your business site. Therefore, you need to take vigilant precautions to make sure that your online sites are mobile friendly and do not have an access issue for such similar devices. You can achieve this by hiring a design expert or someone in related fields who will be able to help you out by chalking up site designs and accessibility. You need to ensure that all the links on your sites are clickable, the pictures or videos on your site are loading, the content is easily viewable, etc., for increased audience satisfaction. Accessibility of your site plays a huge role in the development of your business.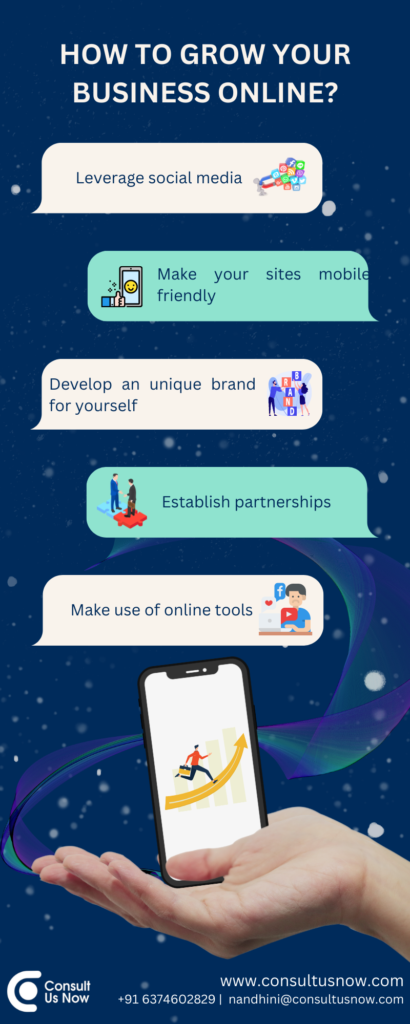 Develop an unique brand for yourself
To swiftly grow your business online, it is also important for you to create a unique space for yourself which will set you apart from other business ventures. Create your own unique brand, and work on it to ensure a space for yourself in the wider market arena. It is extremely necessary for you to carve out your own niche among a plethora of online business ideas. Customers are more likely to show positive feedback and highly reward ventures which are unique and which stand apart from the crowd. Thus, maintain a level of uniqueness and individuality in your business to help attract more customers and grow the rate of your business at an exponential level. Bring in new ideas and new modes of marketing and plan novel methods to market your services and products to appeal to your audience and bring a spark to your online media persona. Having an unique online presence will thus help you to grow your business online at a quick pace and help you achieve success quickly too.
Visit our site Consult Us Now to learn more about developing unique branding for yourself.
Partnerships are one of the most excellent ways to share and lessen the burden of content marketing and product marketing. Partnerships with other business ventures will enable you to almost piggy-back off the success and development of other businesses and also profit off their audience base. However, you need to keep in mind that it has to be a win-win situation- one where all the stakeholders in the partnership are benefitting in some ways by the collaboration. So, while you gain benefits from the partnership, you need to be vigilant to do your own part and help your partner out too. 
Partnerships thus will help you to practically double your reach with minimal effort. They not only open up new forms of avenue for you to explore, but also introduce you to a new audience base which may lead to an increase in your customer base. You also do not need to stick to just collaborations or such for partnerships. Instead, partnerships in business include a wide variety, and you can check out and seek to enter into any sort you deem fit for your business. Alternative modes of partnership relationships may be through collaborative content, co-marketing, joint webinars, and even events. Bring in innovation even in partnerships, and see how it brings fruit to your business. Therefore, engaging in partnerships will help you to swiftly develop your business online.
The online space has access to a large reserve of tools that will help you to grow your business at a rapid rate. Such tools, such as editing apps, audio-visual content generators, informational databases, etc., will help you to develop your business model and also help you with your marketing potential to help you sell your product to a larger number of customers. Therefore, you need to wisely make use of all such tools in due time and place to ensure maximum return on investment. With developing technology, new such tools and services are being generated which will help you in your venture, including even distributing products and services online. The best part of such tools is, as most such tools are automated, you do not require any prior experience or knowledge to utilize these, as most of them are well adept at doing what they were created to do on their own. 
In this article, we have highlighted a number of tips and ideas for you to try out to help you to grow your business online. While no one can ensure the rate of development of any business, these suggestions will help you revamp your game and give you a smoother ride as an entrepreneur. Therefore, knowing these tips is necessary for you to grow your business online at a swift pace.