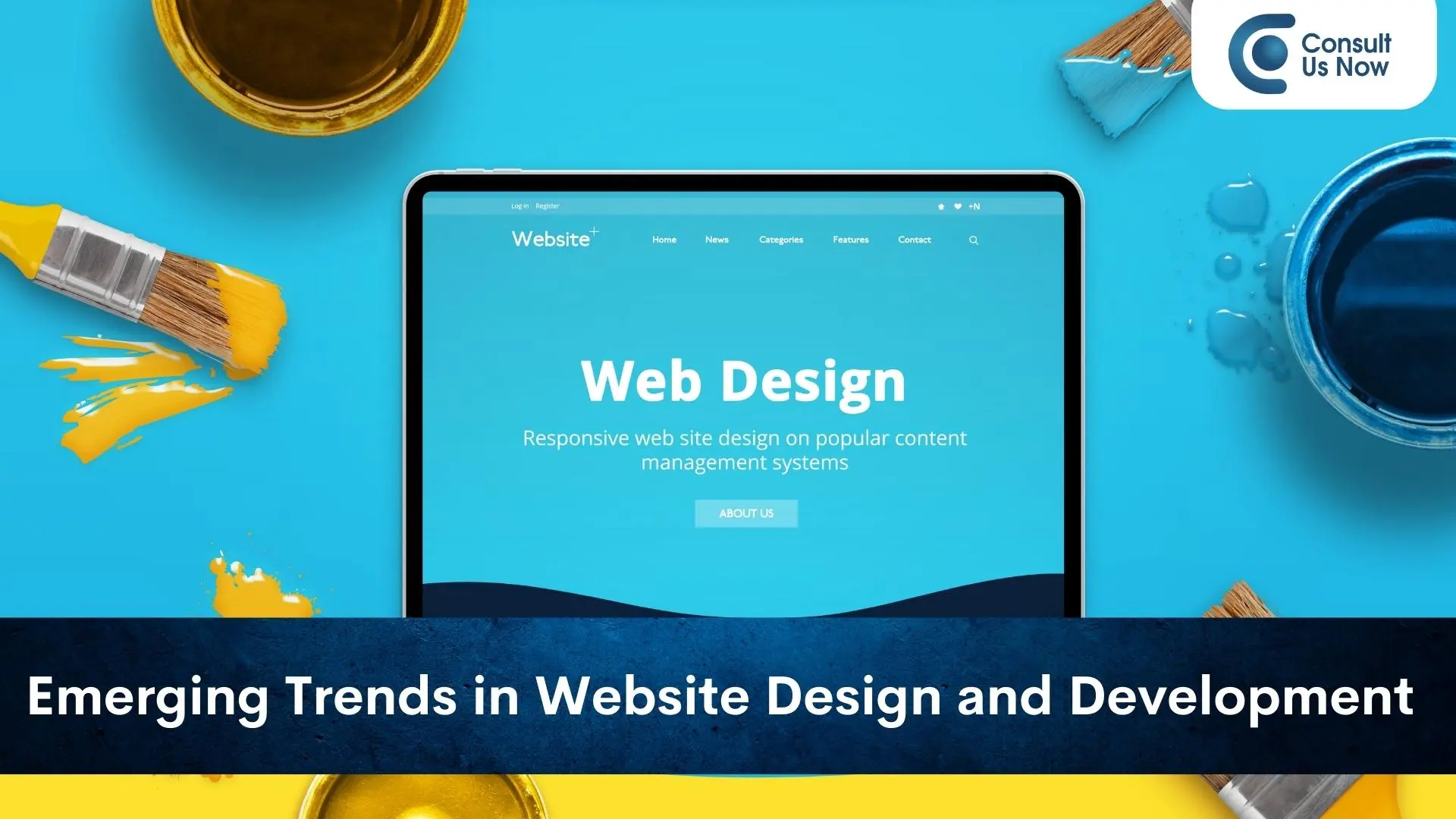 Emerging Trends in Website Design and Development
Blog / Emerging Trends in Website Design and Development
Today, there are more than
1.13 billion websites online and almost 5.16 billion
people use the internet every day.  Web development trends have evolved along with the internet.
Almost 94%
of a visitor's initial perception of your company depends on your website, and exceptional design can increase sales. The information on your website helps your customers learn about your products and make a purchase. You can make your business stand out in crowded cyberspace by regularly updating your website with the latest web design trends. 
That's why modern website design should be incorporated into your marketing plan now more than ever. What contemporary web design trends are expected to emerge in 2023, as well as how can you implement them to update your website? 
In this article, we'll look more closely at the most significant website development trends that will rule in 2023.
Important Trends in Web Design for 2023
Check out the latest trends dominating websites in 2023.
Progressive web apps (PWAs) are being embraced by website developers to boost performance. PWAs carry out similar things to mobile applications without requiring any downloads. They were instead made to function on the majority of browsers, giving users a streamlined experience that's quick, interesting, and accessible irrespective of their device or network connection. 
Due to their lighter size than traditional mobile apps and their ability to speed up websites while lowering bounce rates, Progressive Web Apps are SEO-friendly. When activating SEO on PWAs to improve your visibility within search results, remember to include all relevant elements, such as description tags and keywords. 
Starbucks has used a PWA in one of the most effective ways. Even without regular connectivity to the internet, customers can explore the menu, customize orders, and add products to their cart. Since implementing the modification, the company has seen a considerable improvement. 
According to statistics,
mobile devices account for 55% of all website traffic
worldwide. Everyone had to develop mobile-friendly websites in recent years due to the significant developments in mobile technology. But being mobile-friendly is insufficient. Look closely at the way you hold or operate your smartphone. Your fingers are firmly around the device, and your thumb handles all of the functions. The website must be thumb-friendly in such circumstances. Your website's buttons, menus, and icons are made to be simple for people to access with their thumbs. 
Artificial Intelligence and Machine Learning
It is increasingly common to integrate artificial intelligence (AI) and machine learning (ML) into websites and web applications, with many companies and developers exploring these technologies. Businesses may give their customers personalized experiences, enhance search capabilities, and automate processes by utilizing AI and ML. This may boost user interest and ultimately lead to more conversions. 
Loading speed will always be one of the most important aspects of web development and design. Approximately
70% of users
reported that page speed affects their desire to make purchases from an online store. By lowering page load times and improving FCP and TTI indicators, businesses may increase conversion rates while providing excellent UX. Of course, people do not count seconds, but subconsciously, they evaluate your website. Make your company website unique by contacting a
website development company in Chennai
. 
The idea of dark mode is not new. It was a standard feature on all desktop computers in the early years. Dark mode became outdated as the white background and user interface gained popularity. It once again climbed to the top of the list of web design trends. The most popular social media sites and web browsers now support dark mode, which has its own distinctive design. Furthermore, it lessens eye strain, so users may concentrate better on online content. 
Single-page Applications (SPA)
The single-page application (SPA) consists of a single HTML page and automatic dynamic updates of the content as the user interacts with it. Because they offer a rapid and receptive user interface equivalent to a native mobile app, SPAs are growing in popularity. They are frequently constructed using JavaScript frameworks, which make it simple to create sophisticated and dynamic user interfaces. 
The frosted glass effect, which is now one of the prominent web design trends in a designer's toolkit, is being employed as a background more frequently than gradients. In recent years, advances in web technology have made it simple to develop websites with frosted-glass appearances. A frosted glass overlay adds color to an area while blurring the elements behind it. This makes text or objects visible beyond the image.
Chatbots and Virtual Assistants
Due to the fact that they offer a quick and easy option for customers to communicate with a company, chatbots and digital assistants are becoming more prevalent on websites and web applications. These tools can process transactions, respond to queries, and offer customer service. Businesses may boost customer service and automate tedious activities by incorporating chatbots and virtual assistants into their websites and web applications.
Video is a fantastic tool for conveying your message and enhancing user engagement on your website. However, the video does not appear on its own. It must be carefully planned out, useful, and executed. HubSpot reports that
96% of marketers
who employ video believe it to be an essential component of their marketing plan. Additionally, a video on the loading screen can end up in your own hoard. It may both convey your brand's principles and keep people's attention.
Any web designer or developer is responsible for implementing new technology to improve user experience. One of these is augmented reality (AR). AR is a technology that enables the interaction of digital images or content with the physical world. For example, Snapchat stickers and filters or Google Arts & Culture. 
This technology can provide additional benefits to e-commerce businesses. It provides users with real-life purchasing experiences and helps them make smarter decisions. By knowing what color sofa is best, what glass frame suits my face, and so on, you increase your chances of making a purchase.
Web design is an ever-changing art form that is impacted by fluctuating visitor interests. We never know if something that is outdated today will be trendy again tomorrow or if a new innovation will emerge and revolutionize the entire sector. As a result, keeping up with web design trends and staying on top of things is critical. 
To learn more about website development and design,
Consult Us Now
.