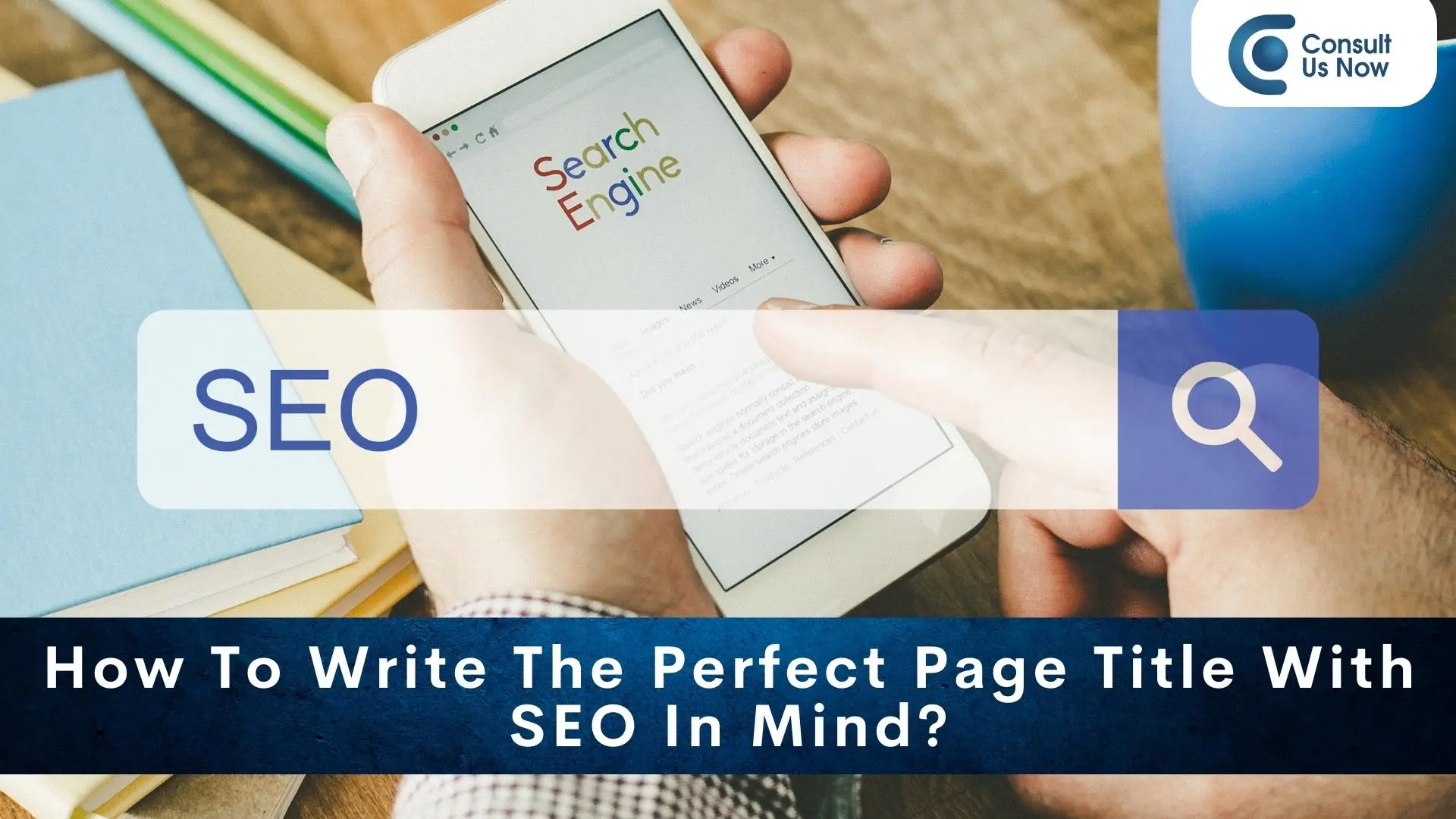 How To Write The Perfect Page Title With SEO In Mind?
Blog / How To Write The Perfect Page Title With SEO In Mind?
Are you wondering about how to write the perfect page title with SEO in mind? Don't be amazed.
It's an easy task. Also, know this whether you write your page title first or save the best for last, your business depends on the impact of a great headline.
Most shoppers use Google to detect new brands. If they are exploring online, your audience is scanning to find what they are looking for. So, let us see how page titles impact SEO.
Many experts say that the page title is a crucial on-page factor for SEO. Do you ever understand which page title they are talking about that is crucial?
You may be confused about it. Before we analyze the details, let's look at the terms we are using.
The first term we are using is title tag: A title tag is what's getting on to accomplish the browser tab and the search engine results in pages.
If your main goal is improving your click-through rate, this is a great resource to know more about optimizing your title tags.
The second term we are using is H1: H1 is an HTML heading, and it's usually the biggest and most crucial heading on a web page.
Thus, the page title occurs on the page itself and is often indicated by using H1-style coding. So, a page title could be a title tag or an H1, it depends on where you publish your website content. You may see other words instead of "page title" such as:
Browser title,

SEO title, and

Blog title.
So, now you can be clear with the terms we are using for page titles.
If you are new to search engine optimization, you can have a clarity of understanding of the page title. For clarity, in this article we will use "page title" to discuss H1s, and "title tag" when talking about the title in the search engine results on pages.
As you keep reading, keep in mind how to write Page titles with SEO in mind that stand out.
Let's have a look at the tips to write page titles with SEO in mind that stand out.
Instead of stuffing your page titles with keywords, you can include your primary keyword. It is also a good idea.
Also, you can put it near the front to help search engines and users rapidly figure out what your page is about.
Additionally, If you can't include your primary keyword, you should try to include a variant of your keyword that fulfills search intent.
Remember that your content should be written for the reader, not for the search engine. This means that your page title should offer something valuable to your reader.
Usually, by offering something valuable information that helps the readers better understand a problem or brings them closer to a solution. You might also want to stimulate their emotions. You can seek help from the best seo agency in Chennai
While using competitive keywords, a long headline is more effective. Page titles don't have the strict character limits that keep a title tag from getting cut off in the search engine results pages. 
If Google is cutting your title off then don't worry about it, for a page title to be useful for SEO it should still hold around 60-70 characters.
Also, your page title should be long enough to attract the reader. Then it should be short enough to make the meaning and motive of the page clear to both users and search engines.
Ignore Repetitive Keywords
Your page titles shouldn't include repetition of the same keyword phrases.
Here is a great example of a bad page title: Toaster, toaster oven, kitchen toaster, college toaster, 8 slice toaster.
These titles are likely to promote worst practices and frequently lead to having the same page titles used across most of the pages on your site.
Besides, it doesn't help users understand what's on the page. So, try to avoid repetitive keywords.
Say No To Your Company Name On The Front
In some cases, your website will already rank high for your company name. Search engines give more weight to the words that occur at the beginning of a page title.
Also, to make sense first form your titles by using your keyword phrases first, and then include your company name.
Every page on your site should have a certain purpose. It is a simple task to create a unique page title for a blog. But business sites often run into repetition.
Also, unique page titles help avoid traffic cannibalization. Cannibalizing is a type of error that occurs when two pages from the same domain rank for the same keyword and are stealing traffic from each other. Unique page titles provide less likelihood to build pages that Google believes are serving the same keywords.
Additionally, think about the uniqueness of the page in front of you, and try to clarify it to improve your page.
For instance:
Let us take a page that is just about "toasters", then the title should include your keywords unique to toasters. So, don't add generic keyword phrases like "kitchen appliances." It may not be actionable.
Get Help From Tools And Templates
Writing a great page title should take a lot of time and effort with some practice and testing. Don't worry about making an effort. Here is an easy way to speed up the process: 
You can use tools and templates that help you to create original and high-performing page titles.
Are you enjoying the process of writing? Then give a try to any one of the headline analyzer tools online to speed up the writing process.
While writing page titles with SEO in mind can be hard. But believe me, once you have mastered the art of SEO page titles, then it will be an easy task for you. It will drive traffic to your website. Also, you can focus on other strategies that can drive traffic to your site. 

To Know more contact

Consult Us Now.
I hope this article will be helpful to you to write page titles with SEO in mind. Let you remember the tips and write your page titles to get more traffic to your website!