Social media may have begun as a site to share pictures of your everyday life with your friends, but these days, it has moved to an entire new level. The market potential of the huge member base of any social media site has been realised by businesses big and small, which are tenaciously working towards tapping into this huge human capital resource.
The lack of hassle of a big-budget marketing strategy makes Instagram an especially well-suited site for you to grow your business on. It concerns itself with unpaid social media marketing strategy that will help you to grow your customer base without any extra expenses or a big marketing team. It is mobile marketing that is free and crucial to growing your business.
Still don't believe us? According to statistics, around 72% of Instagram users have purchased a product they saw on their feed. That means, of the total 700 million users, around 500 million have made a purchase from Instagram.
So, how can you tap into this rich resource? Worry not, because we have compiled a few essential tips that will help you grow your business on Instagram. Read on to find out!
Hook your audience at first glance
To make your business available to a wider audience base, you need to start at the very beginning. Before embarking on a creative strategy, ask yourself a number of questions. Is your feed accessible to various people? Is your bio description interest provoking and engaging? Does your bio reflect your business idea? Is your feed appealing at a single glance?

To help your business grow, you need to address all these various questions and more. The first impression of your Instagram page plays a huge role in a customer choosing to avail your services. Therefore, to generate greater audience interaction, you need to make your feed and bio enticing to your customers. 
Optimise your bio to be entrapping and make it reflect on the service you wish to sell. Put up a fetching description. Try out different aesthetic arrangements and themes to add some extra spark to your feed. Such strategies will help you to reach out into a wider market base by attracting more customers to your site. And don't forget to link your business URL in your Instagram bio!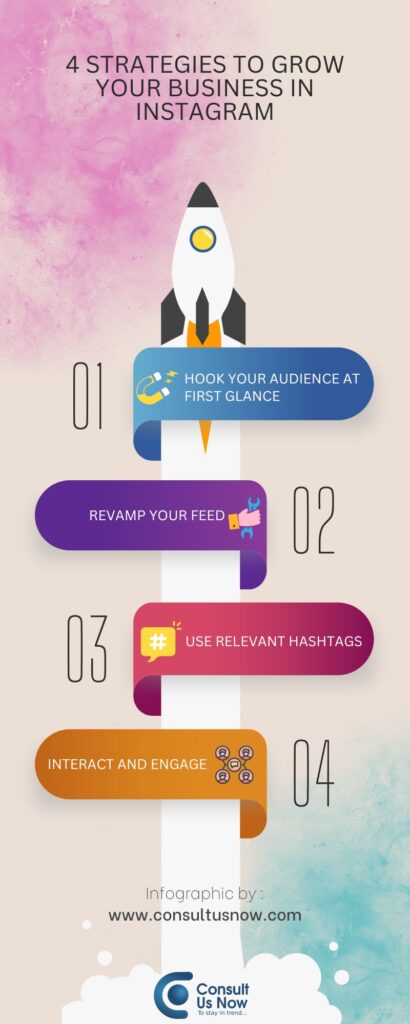 Your feed is the deciding factor for the success of your business. An engaging, fascinating feed will lead to increased consumer interaction and transaction than a mediocre feed. Instagram is a visual media, and using its advantages to its full capacity is what will help you to grow your enterprise.
Try to spice up your posts by making them unique and captivating. Add comments that will grab the attention of your followers. Along with photographs, also lean towards posting videos and reels onto your feed. Reels have become especially useful tools of increasing interaction due to the recently updated Instagram algo rhythm. 
Work smart by concentrating your efforts on posting and uploading posts that are high-quality, accessible and eye-catching. Photo and video editing can bring a professional quality to your posts that will help you to set your business apart from your rivals. A number of free photo and video editing apps, such as Picsart, Filmora, etc. are available at your service.
You also need to maintain a consistent posting schedule to increase user interaction with your page. Build trust and rapport with your customers by keeping up a regular stream of posted content. Consumers are more likely to avail the service of a company that they trust. Therefore, your schedule needs to be systematic and consistent. Find out the best time to post your content on Instagram and stick to that schedule.
Hashtags work as signposts to direct potential customers to your page. Using relevant hashtags will help you to organise and present your content in a coherent manner, which further makes it easier for users to find and follow their interests without unnecessary hassle. 
Posting with even one hashtag will help your post gain more engagement and interaction on the site than posting without any. You can also add hashtags to your bio, or even create your own hashtags to help you grow your business. However, you should restrain yourself from going too overboard with hashtags on posts. Use only the vital and pertinent ones, and try to avoid unnecessary hashtags as they might create confusion for the algorithm.
To prevent clutter in your image post, you may recourse to adding the hashtags in the comment section. Follow hashtags common in your line of industry to stay up-to-date with the demand and supply. Switch between hashtags with lots of followers and hashtags with more niche follower count under the same post to maximise on engagement. You should also employ modes of trial and error to find hashtags that suit you best, and use them consistently.

Social media is a two-way street. Do not limit your actions on Instagram to just posting your content. To grow your business in the present market scene, it is very necessary to build a relationship with your customers and be up-to-date with them. Engage with your audience base and interact with them to create a sense of confidence with them. Judiciously make use of the Instagram Story and Instagram Live options.
Use these tools to provide a more in-depth idea of your business. You can even make a Highlight of a series of Stories regarding a specific service to make it quickly accessible to your audience. Using Story Polls, Question Stickers and other available widget tools not only increases your account interaction, but also offers a mode to gain instant feedback from your customers. Engage your followers by "liking" comments, and replying to them whenever necessary.
Another quick feedback method is to make use of the Analytics tool made available on Instagram. The "view insights" option under each post will give you access to database information, including who is checking your content, who visited your profile, how they got there, etc. Therefore, the analytics tool is highly useful to keep track of your numbers and grow your business in the digital space.
In the above article, we have highlighted a number of social media marketing strategies that will help you to grow your business on Instagram. Primary practices, such as having an attractive feed and a fascinating bio gives a great first impression to your business to any new consumer who may have stumbled upon your account. This, coupled with unique and visually appealing content, will help you to grow your market and reach out to a larger audience base. Using hashtags, recording analytics and being attentive of your social media presence will further help you to reach your goal smoothly. Therefore, to grow your business in the 21st century, building a social media presence on a site, especially Instagram, will help you to taste success.
For further details or support in Digital Marketing, Write to nandhini@consultusnow.com or call us at +91 6374602829